INTERCOIFFURE MONDIAL Paris
Corporate Social Responsability
World of Hairfashion and Beauty Business
EXPOSICIÓN PARA ESTILISTAS
EXPOSICIÓN PARA ESTILISTAS
2019
Exhibition for Hairstylists
Fiere per Parrucchieri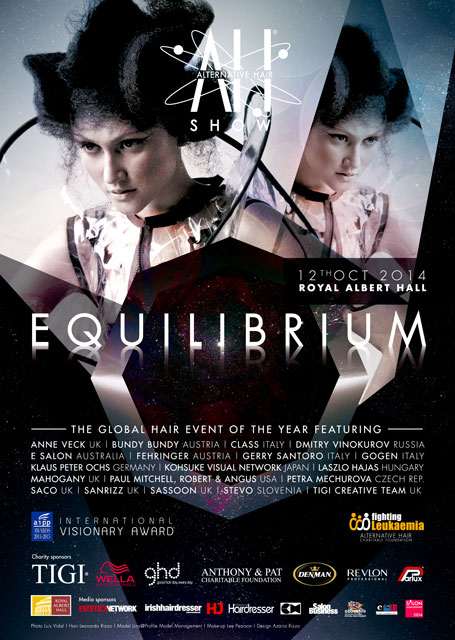 The ALTERNATIVE HAIR SHOW 2014 will take place on Sunday 12th October, at 8pm at The Royal Albert Hall, London celebrating the artistry and pure creativity of hairdressing teams from across the globe, whilst raising much-needed funding for "Fighting Leukaemia"; a charity set up by Tony and Maggie Rizzo to support Leukaemia sufferers, primarily children and their families.

This is the 32nd London Alternative Hair Show and marks an exciting 12 months during which Alternative Hair has also had a highly successful show in Rome, Italy; has welcomed John Frieda as Global Patron and has joined with Hair Raising to organize a charity fun-run "Race For The Kids" on the 8th June 2014 in Battersea Park, Central London.
______________________________________
Battersea Park - London - June 8th 2014
Join Tony Rizzo, John Frieda, Anthony Mascolo and many top hairdressers from 'Alternative Hair' and 'HAIR Raising' on the 8th of June to race and raise money for Great Ormond Street Hospital. all salon owners, hairdressers, individuals, clients, friends and family are welcome. Let's all join forces to raise as much money as possible for this incredible cause.
_______________________________________
Click to see ALTERNATIVE HAIR SHOW - LONDON reportages and news
Clicca per vedere i reportages e le novità su ALTERNATIVE HAIR SHOW - LONDRA
---
SHOW
Sunday 12th October 2014 saw Alternative Hair showcase its 32nd Show, themed 'Equilibrium', at the Royal Albert Hall, London. The legendary event lived-up to all expectations with an outstanding evening of inspirational creativity and fund-raising, in support its cause: Fighting Leukaemia. Spectacular presentations by 20 individual, international hairdressing teams helped raise an impressive £214,000 for the Alternative Hair Charitable Foundation increasing the total amount of funding since the inception of Alternative Hair, in excess of £9.5 million. Founder of Alternative Hair, Tony Rizzo, and Worldwide President of Alternative Hair, Anthony Mascolo, welcomed the audience before presenting the 2014 Artistic Teams. Top creative teams from around the globe – including the UK, Germany, Italy, Hungary, Spain, Austria, Australia, Czech Republic, Russia and Japan – then presented their incredible interpretations of Equilibrium – this year's Alternative show theme. Closing the evening Anthony Mascolo and Tony Rizzo thanked the audience and the participating hairdressers for their enduring support before presenting the cheque for £214,000.
Royal Albert Hall - London, Uk
Who We Are
www.GLOBElife.com is the only provider specialized in hair fashion. With more than 25.000 visitors per day and translated in 38 languages, we can help you improving your Site's Position on the Search Engines Results. There is no doubt that our high position, certified by Alexa/Amazon (55.751 in the World and 2.261 in Italy), will allow you to rise the rank due to 25.000 visits on our website per day. Since www.GLOBElife.com has 1600 domains in the network, it's one of the top ranking sites among all those working in our field, so, adding your link to our web portal will promote general visibility of your page. Consequently, your website will increase its position placement in search engines. Our professional web is what you are looking for. We have more than 17.000 contacts of International Suppliers (Wholesalers and Distributors), 20.000 contacts of Italian hairstylists, 94.000 contacts of International Hairstylists and Exhibitions, 3.000 of Italian and International Companies' contacts, you can use through our DEM (Direct Email Marketing) to 'talk' to the world. We can create a Spot page directly linked to your personal Website to help you increasing your business and visibility. In the Spot there will be a section called MyNEWS, that we update with your adv material every three weeks. Our Spots are user friendly, responsive, they can be seen on every technological device (smartphone, iPhone, iPad, tablet), they are realized in html5 and they are SEO oriented. We can realize your personalized App in which you can communicate to your clients your promotions, new collections, info about your Salon and news from the Fashion world. Our App is supported both by iOS and Android. We can support you through our Social Networks: 30 Facebook Pages dedicated to the Hair and Fashion World daily updated. An Instagram profile daily updated with the best international creations of the most famous Hairstylists coming from all over the world. If you think your new Hairfashion Collection is what we are looking for, you can send your high res pics to us, with the complete credits and we will publish them on our CUBE magazine and online on our portal in the Hair Collection Section, if chosen by our artistic director. GLOBElife is also a Publishing House and we have different printed magazine: BeautyBazar is the only encyclopedic catalog that includes all of the best professional products, fornitures and accessories. You can buy a page in our catalog to sponsor your professional products, a coated adv page and a box in which to include your address if you are a wholesaler. STILEcapelli, our high fashion magazine, a collection of the best international hair creations realized by the most famous hairdresser all over the world, in which you can buy a short article in the 'Galà delle Novità' section to talk about yours luxury goodies. BeautyBazar Fashion, a short magazine in which you can have your four personalized covers, realized by our graphic designer with your photos and adv materials. If you represent an Exhibition and you are looking for a media sponsor, www.GLOBElife.com is your gold mine: we are already the Official Web Sponsor of Alternative Hair Show (UK) and Media Sponsor of: Salon International (London UK), Salon Look (Madrid ES), Show Positivo (Madrid ES), Expo Beauty Show (Mexico City MX), Cosmoprof (IT), On Hair (IT) and so many others. We can promote your Exhibition from the beginning by including your Banner on our Homepage, your Fair in our 'Today' Section, sending a DEM to our Database, posting your news on our Social Networks and writing an article in our Online Journal Gossip&News, a daily updated space in which you can find the latest novelties from the Hair and Fashion world. If you join the Network, please contact us by sending an email to or calling us , GLOBElife is looking forward to meet you!
Content
ES
estilistas de Exposiciones, estilistas Eventos | ❤️ GLOBElife ☎ | Cosmoprof | Hoy en el mundo - peluquerías Salón Internacional | Eventos pelo
estilistas Ferias pelo ☎ peluqueros eventos y exposiciones internacionales peluquería, peluqueros muestran
estilistas Ferias, Cosmoprof, eventos de peluquería, peluquerías, Moda desfiles de cabello, peinados, ferias cabellos rubios, peinados justas, peinados de novia ferias, reuniones, cursos de peluquería para peluquerías, muestra el libro de pelo, exposición internacional de la moda del cabello, concursos de peluquería, consejos de belleza, consultores para el cabello, consultoría de marketing y tricologica industrial
IT
Prodotti per Parrucchieri
Estetica - Make-up
Conto Terzi Parrucchieri
Accessori per Parrucchieri
Arredamenti per Parrucchieri
Distributori parrucchieri Italia
Grossisti parrucchieri nel Mondo
ACADEMY
Franchising per Parrucchieri
Fiere per Parrucchieri
Top 100 Parrucchieri Italia
Parrucchieri Top U.S.A.
Parrucchieri Top U.K.
Parrucchieri Top ES
Parrucchieri Top nel MONDO
Parrucchieri nel mondo
Indirizzi Centri di Estetica
Sezione Parrucchieri
Riviste parrucchieri
Ricerche di Mercato
Erbe nei Capelli
Vocabolario Tricologia


EN
Hair Care
Beauty - Make-up
Private Label Hairstylists
Hairstylists Accessories
Hairstylists Furnitures
Italy Hair Distributors
World Hair Wholesalers
Training for Hairstylists
Franchising for Hairstylists
Exhibition for Hairstylists
Top 100 Hairstylists Italy
Top Hairstylists U.S.A.
Top Hairstylists U.K.
Top Hairstylists ES
Top in the WORLD
Hair Salons in the World
Aesthetics salons Italy
Section for Hairstylists
Hairstylists Magazines
Market Research
Herbs & Hair
Hair Lexicon


FR
Soins des cheveux
Beauté - Make-up
Externalisation Coiffeurs
Coiffeurs Accessoires
Coiffeurs Meubles
Italie distributeurs cheveux
World grossistes Cheveux
Formation des coiffeurs
Franchise pour coiffeurs
Salon des coiffeurs
Top 100 Italie Coiffeurs
Top coiffeurs Etats-Unis
Top Coiffeurs Royaume-Uni
Top Coiffeurs ES
Haut dans le monde
Salons de coiffure dans le monde
Salons d'esthétique Italie
Section pour coiffeurs
Coiffeurs Magazines
Études de marché
Herbes & cheveux
Cheveux Lexicon


DE
Haarpflege
Beauty - Make-up
Private Label Friseure
Friseure Zubehör
Friseure Möbel
Italien Haarverteiler
World Haar Großhändler
Training für Frisöre
Franchising für Frisöre
Fachmesse für Friseure
Top 100 Italien Friseure
Top Friseure USA
Top Friseure UK
Top Friseure ES
Spitze in der Welt
Friseure der Welt
Ästhetik Salons Italien
Abteilung für Frisöre
Friseure Magazine
Marktforschung
Kräuter & Hair
Haar Lexikon


UK
Догляд за волоссям
Краса - Макіяж
Private Label перукарів
Аксесуари для перукарів
Меблі для перукарів
Італія Дистриб'ютори
Оптовики перукарі у Світі
Навчання для перукарів
Франчайзинг для перукарів
Виставка перукарів
100 кращих перукарів Італія
Топ перукарів США
Топ перукарів Великобританії
Топ Новинки в ЕС
Перше місце в світі
Перукарні в світі
Салони Естетика Італія
Розділ для перукарів
Новинки в журнали
Дослідження ринку
Трави і волосся
Волос Лексикон


PT
Cuidados com os cabelos
Beleza - Make-up
Private Label Hairstylists
Hairstylists Acessórios
Hairstylists Móveis
Itália Distribuidores de cabelo
Mundo atacadistas de cabelo
Formação para cabeleireiros
Franchising para cabeleireiros
Exposição para cabeleireiros
100 Top cabeleireiros Itália
Top cabeleireiros EUA
Top cabeleireiros do Reino Unido
Top Hairstylists ES
No topo do mundo
Salão de Beleza no Mundo
Salões de estética Itália
Secção de cabeleireiros
Hairstylists Revistas
Pesquisa de Mercado
Ervas & Hair
Hair Lexicon


IW
טיפוח שיער
ופי - איפור
מותג פרטי
Hairstylists אבזרים
Hairstylists ריהוט
מפיצי שיער איטליה
עולם סיטונאים שיער
אימון לHairstylists
זיכיונותלHairstylists
תערוכהלHairstylists
Top 100 איטליה
Top למעלה ארהב
למעלה Hairstylists בריטניה
למעלה Hairstylists ES
טוב בעולם
סלוני שיער בעולם
מכוני האסתטיקה איטליה
סעיףלHairstylists
מגזינים Hairstylistss
מחקר שוק
עשבי תיבולושיער
שיער לקסיקון


RU
Уход за волосами
Красота - Макияж
Private Label парикмахеров
парикмахеров аксессуары
Новинки в Мебель
Италия Дистрибьюторы Волосы
Мировые Оптовые торговцы Волосы
Обучение для парикмахеров
Франчайзинг для парикмахеров
выставка парикмахеров
100 лучших парикмахеров Италия
Топ парикмахеров США
Топ парикмахеров Великобритании
Топ Новинки в ЭС
первое место в мире
Парикмахерские в World инструменты
салоны Эстетика Италия
Раздел для парикмахеров
Новинки в журналы
Исследование рынка
Травы и волос
волос Лексикон


AR
العناية بالشعر
الجمال - المكياج
تسمية خاصة مصففي الشعر
المصممون اكسسوارات الشعر
المصممون الشعر اثاث
يطاليا موزعين الشع
تجار الشعر العالمي
التدريب لهيرستليستس
الامتياز لهيرستليستس
معرض لهيرستليستس
الأعلى هيرستليستس إيطاليا
أعلى هيرستليستس الولايات المتحدة الأمريكية
أعلى الشعر المصممون المملكة المتحدة.
أعلى هيرستليستس إسبانيا
الأعلى في العالم
صالونات الشعر في العالم
الجماليات صالونات إيطاليا
قسم للهيرستليستس
المصممون الشعر مجلات
بحوث السوق
الأعشاب والشعر
معجم الشعر


HY
Hair Care
գեղեցկություն
Private Label Hairstylists
Hairstylists Աքսեսուարներ
Hairstylists Furnitures
Իտալիա Մազերի Ներկրողներ
World Մազերի մեծածախ
դասընթաց Hairstylists
Franchising համար Hairstylists
ցուցահանդես Hairstylists
100 Ամենաշատ Hairstylists Իտալիա
Top Hairstylists USA
Top Hairstylists Մեծ Բրիտանիա
Top Hairstylists ES
Top աշխարհում
Մազերի սրահներ է աշխարհում
Գեղագիտություն սրահներ Իտալիա
բաժինը Hairstylists
Hairstylists Ամսագիր
Շուկայի հետազոտություն
Խոտաբույսեր եւ Մազերի
Hair Lexicon


BE
Сыход за валасамі
Прыгажосць - Макіяж
Private Label цырульнікаў
цырульнік аксэсуары
Навінкі ў Мэбля
Італія Дыстрыбутары Валасы
Сусветныя Аптовыя гандляры Валасы
Навучанне для цырульнікаў
Франчайзінг для цырульнікаў
Выстава цырульнікаў
100 лепшых цырульнікаў Італія
Топ цырульнікаў ЗША
Топ цырульнікаў Вялікабрытаніі
Топ Навінкі ў ЭС
Першае месца ў свеце
цырульні ў свеце
Салоны Эстэтыка Італія
Падзел для цырульнікаў
Навінкі ў часопісы
Даследаванне рынку
Травы і валасоў
Волас Лексікон


BG
Грижа за косата
Beauty - Грим
Hairstylists Private Label
Hairstylists Accessories
Hairstylists Мебели
Италия Дистрибутори Коса
Световните Wholesalers Коса
Обучение за Hairstylists
Франчайзинг за Hairstylists
Изложба за Hairstylists
100 Топ Hairstylists Италия
Топ Hairstylists USA
Топ Hairstylists Великобритания
Топ фризьори ES
Top в света
фризьорски салони в света
Естетика салони Италия
Раздел за Hairstylists
Hairstylists Magazines
Market Research
Билки и косата
Косата Lexicon


CA
Cura del cabell
Bellesa - Maquillatge
Etiqueta privada Hairstylists
Hairstylists Accessoris
Hairstylists Mobles
Itàlia Distribuïdors de pèl
Majoristes del Món de pèl
Capacitació per estilistes
Franquícies per estilistes
Exposició per estilistes
100 millors estilistes Itàlia
Top Perruquers EUA
Top estilistes del Regne Unit
Top Hairstylists ÉS
Millors del món
Perruqueria al món
Els salons d'estètica Itàlia
Secció d'estilistes
Hairstylists Revistes
Investigació de Mercat
Herbes & Hair
Hair Lexicon


ZH
美容 - 化妆
美
自有品牌的发型师
剪发附件
剪发家具
意大利的头发分销商
世界美发批发商
培训的发型师
特许经营为发型师
展发型师
100顶剪发意大利
顶级发型师美国
顶级发型师英国
顶级发型师ES
最高的美誉
发型屋世界
美学沙龙意大利
科发型师
发型师杂志
市场研究
香草及头发
头发词典


CS
Péče o vlasy
Beauty - Make-up
Private Label kadeřnice
kadeřnice Příslušenství
kadeřnice nábytek
Itálie vlasy Distributoři
World vlasy Velkoobchody
Školení pro kadeřnice
Franchising pro kadeřnice
Výstava pro kadeřnice
100 Top kadeřnice Itálie
Top kadeřnice USA
Top kadeřnice UK
Top kadeřnice ES
Top na světě
kadeřnictví ve světě
Estetika krásy Itálie
Sekce pro kadeřnice
kadeřnice časopisy
Průzkum trhu
Byliny a vlasy
Hair Lexicon


DA
Hårpleje
Skønhed - Make-up
Private Label frisører
frisører Accessories
frisører Møbelforretninger
Italien Hair Distributors
World Hair Grossister
Uddannelse til frisører
Franchising for frisører
Udstilling for frisører
100 Top frisører Italy
Top frisører USA
Top frisører UK
Top frisører ES
Top i verden
hår saloner i verden
Æstetik saloner Italy
Sektion for frisører
frisører Magasiner
Market Research
Urter & Hair
Hair Leksikon


EL
Φροντίδα για τα μαλλιά
Ομορφιά - Make-up
Private Label κομμωτήρια
κομμωτήρια Αξεσουάρ
κομμωτήρια Έπιπλα
Ιταλία Διανομείς Hair
World Χονδρέμποροι Hair
Κατάρτιση για κομμωτήρια
Franchising για κομμωτήρια
Έκθεση για κομμωτήρια
100 Top κομμωτήρια Ιταλία
Top κομμωτήρια ΗΠΑ
Top κομμωτήρια Ηνωμένο Βασίλειο
Top κομμωτήρια ES
Top στο WORLD
Κομμωτήρια στον κόσμο
Αισθητική σαλόνια Ιταλία
Ενότητα για κομμωτήρια
κομμωτήρια Περιοδικά
Έρευνα Αγοράς
Βότανα & Hair
Hair Lexicon


ET
Juuksehooldus
Beauty - Make-up
Private Label hairstylists
Hairstylists Accessories
Hairstylists Mööbel
Itaalia Hair müüjad
World Hair hulgimüüjad
Koolitus hairstylists
Frantsiisi eest hairstylists
Exhibition hairstylists
100 Top hairstylists Itaalia
Top hairstylists USA
Top hairstylists UK
Top hairstylists ES
Top maailmas
juuksurisalongid maailmas
Esteetika salongid Itaalia
sektsiooni hairstylists
hairstylists Ajakirjad
Market Research
Maitsetaimed ja Hair
Hair Lexicon


FA
مراقبت از مو
زیبایی - آرایش
خصوصی برچسب مدل مو
مدل مو لوازم جانبی
مدل مو مبلمان
ایتالیا مو توزیع
جهانی عمده فروشان مو
آموزش مدل مو
امتیاز برای مدل مو
نمایشگاه برای مدل مو
مدل مو بالا ایتالیا
مدل مو بالا US
مدل مو بالا UK
مدل مو بالا ES
بالا در جهان
سالن مو در جهان
سالن زیبایی شناسی ایتالیا
خدمات
مدل مو مجلات
تحقیقات بازار
گیاهان و مو
مو واژه نامه


FI
Hiustenhoito
Beauty - Make-up
Private label hiukset stylistit
Hiukset stylistit Asusteet
Hiukset stylistit Furnitures
Italia Hair Jälleenmyyjät
World Hair Tukkukauppiaat
Koulutusta hiukset stylistit
Franchising varten hiukset stylistit
Näyttely Hiukset stylistit
100 Top Hairstylists Italia
Top hiukset stylistit USA
Top hiukset stylistit UK
Top hiukset stylistit ES
Top maailmassa
Kampaamo maailmassa
Estetiikka salongit Italia
Vastannut Hiukset stylistit
Hiukset stylistit Magazines
Market Research
Yrtit & Hiukset
Hiukset Lexicon


PL
Pielęgnacja włosów
Uroda - Make-up
Private Label fryzjerskie
fryzjerskie Akcesoria
stylistów Meble
Włochy Włosy Dystrybutorzy
świata Hurtownicy włosów
Szkolenia dla stylistów
Franchising dla stylistów
Wystawa dla stylistów
100 Najlepsze fryzjerskie Włochy
Top fryzjerskie USA
Top fryzjerskie UK
Top stylistów ES
Najlepsza na świecie
Salonach fryzjerskich na świecie
Salony Estetyka Włochy
Sekcja stylistów
stylistów Czasopisma
Badanie rynku
Zioła i włosów
Włosy Leksykon


GL
Coidado cos cabelos
Beleza - Make-up
Private Label Hairstylists
Hairstylists Accesorios
Hairstylists Mobles
Italia Distribuidores de pelo
Mundo atacadista de pelo
Formación para peluqueros
Franchising para perrucarías
Exposición para perrucarías
100 Top perrucaría Italia
Top perrucaría Unidos
Top perrucaría do Reino Unido
Top Hairstylists ES
Na parte superior do mundo
Perrucaría no Mundo
Salóns de estética Italia
Sección de perrucaría
Hairstylists Revistas
Investigación de Mercado
Herbas & Hair
Hair Lexicon


 HI
हेयर केयर
सौंदर्य
निजी लेबल हेयर स्टाइलिस्टों
स्टाइलिस्टों सहायक
स्टाइलिस्टों Furnitures
इटली वितरक
विश्व भर में थोक
हेयर स्टाइलिस्टों के लिए प्रशिक्षण
हेयर स्टाइलिस्टों के लिए Franchising
हेयर स्टाइलिस्टों के लिए प्रदर्शनी
शीर्ष 100 इटली
शीर्ष स्टाइलिस्टों संयुक्त राज्य अमेरिका
शीर्ष स्टाइलिस्टों यूके
शीर्ष स्टाइलिस्टों ते
दुनिया में शीर्ष
विश्व में बाल सैलून
सौंदर्य सैलून इटली
हेयर स्टाइलिस्टों के लिए धारा
स्टाइलिस्टों पत्रिका
बाजार अनुसंधान
जड़ी बूटी और बाल
बाल कोश


HR
Njega kose
Ljepota - Make-up
Private Label Frizeri
Frizeri oprema
Frizeri Namještaja
Italija Kosa Distributeri
Svijet kose veliko
Trening za frizera
Franšiza za frizera
Izložba za frizera
100 Top Frizeri Italija
Top Frizeri USA
Top Frizeri UK
Top frizeri ES
Najbolje na svijetu
Frizerski saloni u svijetu
Estetika saloni Italija
Odsjek za frizera
Frizeri Magazines
Istraživanje tržišta
Bilje & Hair
Kosa leksikon


HU
Hajápolás
Beauty - Make-up
Private Label Hairstylists
Hairstylists tartozékok
Hairstylists bútorok
Olaszország Haj elosztók
World Haj nagykereskedők
Képzés Hairstylists
Franchise a Hairstylists
Kiállítás Hairstylists
100 Top Hairstylists Olaszország
Top Hairstylists USA
Top Hairstylists UK
Top Hairstylists ES
Top a világon
Hair szalonok a világban
Esztétika szalonok Olaszország
Szekció Hairstylists
Hairstylists magazinok
Market Research
Herbs & Hair
Hair Lexicon


ID
Perawatan Rambut
Beauty - Make-up
Private Label penata rambut
Penata rambut Aksesoris
Penata rambut Furnitures
Italia Hair Distributor
Dunia Pedagang Hair
Pelatihan bagi penata rambut
Waralaba untuk penata rambut
Pameran untuk penata rambut
100 Top penata rambut Italia
Top penata rambut USA
Top penata rambut Inggris
Top penata rambut ES
Top di WORLD
Salon Rambut di Dunia
Estetika Salon Italy
Seksi penata rambut
Penata rambut Majalah
Riset Pasar
Herbal & Rambut
Rambut Lexicon


IS
Umhirðu
Beauty - Förðun
Private Label Hairstylists
Hairstylists Aukabúnaður
Hairstylists húsgögnum
Ítalía Hair Dreifingaraðilar
World Hair Heildsalar
Þjálfun fyrir Hairstylists
Sérleyfi fyrir Hairstylists
Sýning fyrir Hairstylists
100 Top Hairstylists Italy
Top Hairstylists USA
Top Hairstylists UK
Top Hairstylists ES
Top í heiminum
Hair Salons í heiminum
Fagurfræði salons Italy
Section fyrir Hairstylists
Hairstylists Tímarit
Market Research
Herbs & Hair
Hair Lexicon


JA
ヘアケア
美 - メイクアップ
プライベートラベルスタイリスト
スタイリストアクセサリー
スタイリスト家具
イタリア髪の店
「世界髪卸
スタイリストのための研修
スタイリストのためのフランチャイズ
スタイリストのための展示会
100トップスタイリストイタリア
トップスタイリストアメリカ
トップスタイリスト英国
トップスタイリストES
世界のトップ
は= 「世界のヘアサロン
美学サロンイタリア
スタイリストについては、「
スタイリスト雑誌
市場調査
ハーブ&髪
髪辞書


KO
헤어 케어
뷰티 - 메이크업
개인 상표 헤어 스타일
헤어 스타일 액세서리
헤어 스타일 가구
이탈리아 헤어 유통
세계 머리 도매
헤어 스타일 에 대한 교육
헤어 스타일 에 대한 프랜차이즈
헤어 스타일 에 대한 전시회
100 인기 헤어 스타일 이탈리아
톱 헤어 스타일리스트 USA
최고 미용사 UK
최고 미용사 ES
세계 최고
세계 에있헤어 살롱
미학 살롱 이탈리아
헤어 스타일 에 대한 섹션
헤어 스타일 잡지
시장 조사
허브 & 헤어
머리 사전


LT
Plaukų priežiūra
Grožis - Make-up
Private Label plaukų stilistai
Plaukų stilistai priedai
Plaukų stilistai baldai
Italija Plaukų Platintojai
Italija Plaukų Platintojai
Mokymas plaukų stilistai
Franšizė už plaukų stilistai
Paroda plaukų stilistai
100 Top Hairstylists Italija
Top plaukų stilistai JAV
Top plaukų stilistai UK
Top plaukų stilistai ES
Labiausiai pasaulyje
Plaukų salonai pasaulyje
Estetika salonai Italija
Skyrius plaukų stilistai
Plaukų stilistai Žurnalai
Rinkos tyrimai
Žolės ir plaukai
Plaukų Žodynas


LV
Matu kopšanas
Beauty - Make-up
Private Label Hairstylists
Hairstylists Accessories
Hairstylists Mēbeles
Itālija Hair Distributors
Pasaule matu Vairumtirgotāji
Mācības Hairstylists
franšīzes par Hairstylists
izstāde Hairstylists
100 Top Hairstylists Italy
Top Hairstylists ASV
Top Hairstylists UK
Top Hairstylists ES
Top pasaulē
Matu saloni pasaulē
Estētika salons Italy
nodaļa Hairstylists
Hairstylists Žurnāli
tirgus izpēte
Garšaugi un Hair
Hair Lexicon


MK
За нега на коса
Убавината - Make-up
Приватни Етикета фризери
фризери Алатки
фризери Мебел
Италија коса дистрибутери
Светот на коса големо
Обука за фризери
Франшизата за фризери
Изложба за фризери
100 Топ фризери Италија
Топ фризери САД
Топ фризери Велика Британија
Топ фризери ОУ
top во светот
коса салони во светот
Естетика салони Италија
Одделението за фризери
фризери Списанија
Истражување на пазар
Билки и коса
Коса лексикон


MS
Penjagaan Rambut
Kecantikan - Make-up
Buat pendandan rambut
Pendandan rambut Aksesori
Pendandanrambut Perabot
Itali Pengedar rambut
Dunia Pemborong rambut
Latihan untuk pendandan rambut
Francais bagi pendandan rambut
Pameran untuk pendandan rambut
100 pendandan rambut Top Italy
pendandan rambut Top USA
Top pendandan rambut UK
pendandan rambut Top ES
Top di DUNIA
Salons rambut di Dunia
salun Estetik Italy
Seksyen untuk pendandan rambut
pendandan rambut Majalah
Penyelidikan Pasaran
Herba & rambut
Rambut Lexicon


MT
Kura tax-xagħar
Beauty - Make-up
Private Label Hairstylists
Hairstylists Aċċessorji
hairstylists Furnitures
Italja Hair Distributuri
Dinja Wholesalers Hair
Taħriġ għall Hairstylists
Franchising għall Hairstylists
Wirja għall Hairstylists
100 Top Hairstylists Italja
Top Hairstylists USA
Top Hairstylists Renju Unit
Top hairstylists ES
aqwa fid-dinja
Salons tax-xagħar fid-dinja
Salons Estetika Italja
Taqsima għall Hairstylists
Magazines Hairstylists
Riċerka tas-Suq
Ħwawar & Hair
Hair Lexicon


NL
Haarverzorging
Beauty - Make-up
Private Label Hairstylists
Hairstylists Toebehoren
Hairstylists Meubels
Italië Haar Distributors
World Hair Groothandel
Opleiding voor herenkappers
Franchising voor herenkappers
Tentoonstelling voor herenkappers
100 Top Hairstylists Italië
Top Hairstylists USA
Top Hairstylists UK
Top Hairstylists ES
Top in de wereld
Kappers in de wereld
Aesthetics salons Italië
Afdeling voor herenkappers
Hairstylists Magazines
Marktonderzoek
Kruiden & Hair
Hair Lexicon


NO
Hårpleie
Beauty - Make-up
Private Label Hairstylists
Hairstylists Tilbehør
Hairstylists Møbler
Italia Hår fordeler
World Hår Grossister
Training for Hairstylists
Franchising for Hairstylists
Exhibition for Hairstylists
100 Top Hairstylists Italia
Topp Hairstylists USA
Topp Hairstylists UK
Topp Hairstylists ES
beste i verden
Frisørsalonger i verden
Estetikk salonger Italia
Seksjon for Hairstylists
Hairstylists Magazines
Market Research
Urter & Hair
Hair Lexicon


RO
Ingrijirea parului
Uroda - Make-up
Private Label coafeză
coafeză Accesorii
coafeză mobilier
Włochy Włosy Dystrybutorzy
świata Hurtownicy włosów
Training pentru coafeză
Franchising pentru coafeză
Expozitia de coafeză
100 Najlepsze fryzjerskie Włochy
Top coafeză SUA
Top coafeză din Marea Britanie
Top coafeză ES
de top din lume
Saloane de păr din lume
saloane de Estetica Italia
Secțiunea pentru coafeză
Reviste coafeză
Cercetare de piata
Herbs & Hair
Hair Lexicon


SK
Starostlivosť o vlasy
Beauty - Make-up
Private Label kaderníčka
Kaderníčka Príslušenstvo
Kaderníčka nábytok
Taliansko vlasy Distribútori
World vlasy Veľkoobchody
Školenie pre kaderníčky
Franchising pre kaderníčky
Výstava pre kaderníčky
100 Top kaderníčka Taliansko
Top kaderníčka USA
Top kaderníčka UK
Top kaderníčka ES
Top na svete
kaderníctvo vo svete
Estetika krásy Taliansko
Sekcia pre kaderníčky
kaderníčka časopisy
Prieskum trhu
Byliny a vlasy
Hair Lexicon


SL
Nega las
Beauty - Make-up
Private Label Frizer
Frizer Pripomočki
Frizerji Pohištva
Italija lasje Distributors
Svetovni Veletrgovci lase
Usposabljanje za frizerji
Franšizing za frizerji
Razstava frizerji
100 Top Frizer Italija
Top Frizer USA
Top Frizer UK
Top frizerji ES
Najboljši na svetu
frizerskih salonov na svetu
Estetika saloni in Italijo
Oddelek za frizerji
frizerji Revije
tržne raziskave
Zelišča & Hair
Hair Leksikon


SQ
Kujdesi për flokët
Bukuri - Make-up
Private Label Hairstylists
Hairstylists Accessories
Hairstylists furnitures
Itali Flokët Shpërndarës
Bota Tregtarët me shumicë e flokeve
Trajnim për Hairstylists
Franchising për Hairstylists
Ekspozita për Hairstylists
100 Top Hairstylists Itali
Top Hairstylists USA
Top Hairstylists në Mbretërinë e Bashkuar
Top Hairstylists ES
Më në botë
Salons flokëve në Botë
Salons Estetikë Italia
Seksioni për Hairstylists
Hairstylists Revista
Studim tregu
Videos & Hair
Hair Shkoni


SR
Нега косе
Лепота - Маке-уп
Привате Лабел Хаирстилистс
Хаирстилистс Прибор
Хаирстилистс намештаја
Италија Коса Дистрибутери
Ворлд Коса дрвета
Обука за Хаирстилистс
Франшизинг за Хаирстилистс
Изложба за Хаирстилистс
100 Топ Хаирстилистс Италија
Топ Хаирстилистс САД
Топ Хаирстилистс УК
Топ Хаирстилистс ОУ
Врх на свету
фризерски салони у свету
Аестхетицс салони Италија
Секција за Хаирстилистс
Хаирстилистс Часописи
Маркетинг
Биље & Коса
Коса лексикон


SV
Hårvård
Skönhet - Make-up
Private Label Hairstylists
Hairstylists Tillbehör
Hårfrisör Furnitures
Italien Hår Distributörer
World Hår Grossister
Utbildning för Hairstylists
Franchising för Hairstylists
Utställning för Hairstylists
100 Top Hairstylists Italien
Top Hairstylists USA
Top Hairstylists brittiska
Top Hårfrisör ES
Överst i världen
Hår salonger i världen
Estetik salonger Italien
Sektionen för Hairstylists
Hårfrisör Tidningar
Marknadsundersökning
Örter & Hair
Hair Lexicon


 TH
ผลิตภัณฑ์ดูแลเส้นผม
ความงาม
Label เอกชน Hairstylists
Hairstylists อุปกรณ์
Hairstylists เฟอร์นิเจอร์
อิตาลี จัดจำหน่าย
ขายส่ง โลก
การฝึกอบรมสำหรับ Hairstylists
แฟรนไชส์ ​​เพื่อ Hairstylists
นิทรรศการ เพื่อ Hairstylists
100 อิตาลี
ยอด Hairstylists สหรัฐอเมริกา
ยอด Hairstylists สหราชอาณาจักร
ยอด Hairstylists ES
ยอดนิยมใน โลก
ร้านตัดผม ใน โลก
สนนราคา สุนทรียศาสตร์ อิตาลี
มาตรา การ Hairstylists
Hairstylists นิตยสาร
การวิจัยการตลาด
สมุนไพรและ ผม
ผม Lexicon


TL
Pangangalaga ng Buhok
Pampaganda - Make-up
Pribado Label Hairstylists
Hairstylists Accessory
Hairstylists Furnitures
Italya ng Buhok distributor
World ng Buhok Wholesaler
Training para sa Hairstylists
Franchising para Hairstylists
Exhibition para sa Hairstylists
100 Nangungunang Hairstylists Italya
Top Hairstylists USA
Top Hairstylists UK
Top Hairstylists ES
Top sa mundo
Salon Buhok sa Mundo
Aesthetics salon Italya
Seksyon para sa Hairstylists
Magazine Hairstylists
Pananaliksik sa Merkado
Mga Herb & Hair
Buhok leksikon


VI
Chăm sóc tóc
Beauty - Make-up
Nhãn hiệu riêng tạo mẫu tóc
Tạo mẫu tóc Phụ kiện
Tạo mẫu tóc nội thất
Ý phân phối tóc
Thế giới bán buôn tóc
Đào tạo cho tạo mẫu tóc
Nhượng quyền thương mại cho tạo mẫu tóc
Triển lãm cho tạo mẫu tóc
Top 100 mẫu tóc Italy
Top tạo mẫu tóc Mỹ
Top tạo mẫu tóc Anh
Top tạo mẫu tóc ES
Top trong THẾ GIỚI
Thẩm mỹ viện tóc trong thế giới
Thẩm mỹ thẩm mỹ viện Ý
Mục cho tạo mẫu tóc
Tạo mẫu tóc Tạp chí
Nghiên cứu thị trường
Herbs & tóc
Tóc Lexicon


TR
Saç Bakımı
Güzellik - Make-up
Private Label Hairstylists
Hairstylists Aksesuarlar
Hairstylists Mobilyaları
İtalya Saç Dağıtıcıları
Dünya Saç Toptancılar
Hairstylists Eğitimi
Hairstylists için Franchising
Hairstylists için Sergisi
Top 100 Hairstylists İtalya
Top Hairstylists USA
Top Hairstylists UK
Top Hairstylists ES
Dünyanın en iyi
Dünyada Saç Salonları
Estetik salonları İtalya
Hairstylists için bölüm
Hairstylists Dergiler
Pazar Araştırması
Otlar ve Saç
Saç Lexicon


GA
Cúram Gruaige
Áilleacht - Make-up
Hairstylists Príobháideacha Lipéad
Gruaige Accessories Stylists
Furnitures Gruaige Stylists
an Iodáil Dáileoirí Gruaige
Domhanda Gruaige Mórdhíoltóirí
Oiliúint do Hairstylists
Saincheadú do Hairstylists
Taispeántas do Hairstylists
100 Hairstylists Barr Iodáil
Barr Hairstylists Stáit Aontaithe Mheiriceá
Barr Hairstylists Ríocht Aontaithe
Barr Hairstylists ES
Barr sa DOMHAN
Gruaigeadóirí Gruaige sa Domhan
Salons Aeistéitic Iodáil
Alt haghaidh Hairstylists
Irisí Hairstylists
Taighde Margaidh
Luibheanna & Gruaige
Gruaige Gluais



EDIZIONI HP Srl - ITALY | P.IVA 09161130969 | GLOBElife Group | ADV - ADVERTISE | PRIVACY | VIDEOS HP | VIDEOS GOSSIP | VIDEOS INTERCOIFFURE | ALEXA
® GLOBElife.com 2020 All Rights Reserved